Motic proudly announces the launch of our FS-Live Telepathology system for remote consultation and diagnosis.
The FS-Live system is a real-time control and image streaming suite that directly connects pathologists to a networked MoticEasyScan for remote diagnosis. It brings the lab and operating room to the pathologist, eliminating hours of travel and onsite time for experts and saving hospitals hundreds of thousands of dollars in consultation costs each year.
Developed in conjunction with leading pathologists and cancer researchers in the US, the system is ideal for remote use in Frozen Section diagnosis, FNA and cytology adequacy evaluation, ROSE, and live-sample tumor boards. The continuous auto-focus feature is an industry breakthrough that completely eliminates the need for focus adjustment. Other innovative features include the z-stack snapshot for cytology, gamma compensation to correct over-staining, and an array of on-screen tools to facilitate seamless pathologist-technician communication.
This FS-Live release is a bundled package that includes the Live Mode software feature, a specially customized MoticEasyScan One for Frozen Section, and the scanner control computer. The Live Mode software is fully compatible with the MoticEasyScan One and will be available to current users as an add-on feature upgrade in coming months. FS-Live will launch soon for the MoticEasyScan Pro series as well.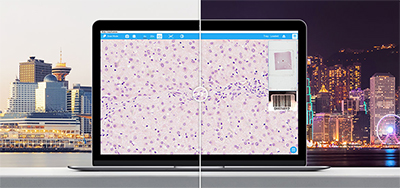 Head to our website to learn more about the FS-Live and to book your demo today!