Analytica 2018 has been a great meeting point to show our 2018 product news. The new family members of the Panthera Line, the Wi-Fi model Panthera D, and the Panthera TEC BD with segmented darkfield for industrial applications have been very well received. The MoticEasyScan Infinity, with capacity to scan up to 102 slides, is a big step forward in Motic's digital slide scanning system, making mass slide scanning easier and quicker. Furthermore, the Stereomicroscopes SM6 & SM7 Series with up to 56X magnification marks the difference compared to our current microscope line. Last but not least, the impressive Panthera XL TEC with a 3D profiler system made visitor's heads turn.

If you didn't have the chance to come, feel free to contact us in case you wish to know more about our product news, and save the date now to come to Medica in November.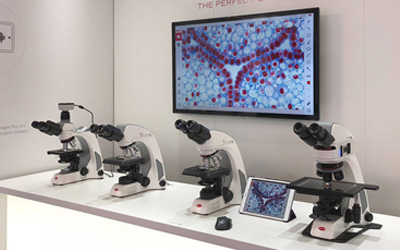 Celebrating #Motic30years with you.